Students of Grade 8 had participated in the Toycathon 2021, an inter-ministerial initiative under "Atmanirbhar Bharat" by honourable prime minister Shri. Narendra Modi organized by the Ministry of Education Innovation Cell (MIC) supported by the All India Council for Technical Education ( AICTE), Ministry of Women and Child Development, Ministry of Commerce and Industry, Ministry of MSME, Ministry of Textiles and Ministry of Information and broadcasting.
Toycathon is conceived to challenge India's innovative minds to conceptualize novel toys and games based on Bhartiya civilization, history, culture, mythology and ethos. Pranav Gore along with his Team members Advait Khilari and Parth Ghodmare of grade 8(2020-21)  were the winners of this National level Competition and secured a cash prize of Rs. 25,000/- for this achievement.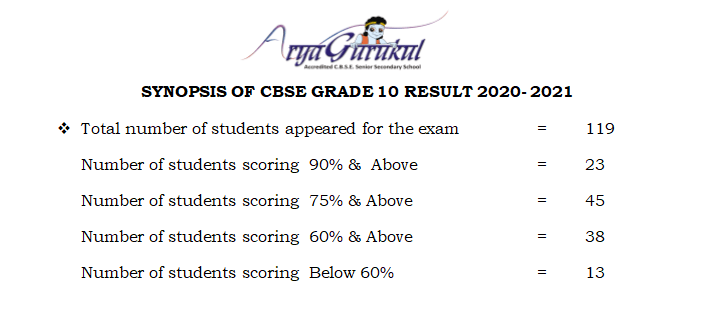 The announcement of the Std. 10th CBSE board results has brought great news for the students of Arya Gurukul, Kalyan as they scored 100% results. Despite a highly challenging year, the students did brilliantly well, due to the dedicated efforts of the teachers and the support of the parents.
A total of 119 students appeared for the board exams this year and the break-up of the results is as follows – 23 students above 90%, 45 students in Distinction, 38 students in First class and 13 students in second class.
The toppers of this year, Miss Ananya Singh who scored 99.6%, Miss Harshavarthini Jaganmohan who scored 99.2%, Miss Ekta Nandanwar who scored 96%, and Aditi Colin Lazarus scored 94.4% express their gratitude to their teachers and parents who have stood by them during this extremely uncertain year and kept them motivated and focused.
Arya Gurukul – Shines bright with 100% results in 12th.
The students of Arya Gurukul, the No.1 school for Innovative Teaching, according to Education Today, has scored 100% results even this year. The students along with the management and teachers are immensely overjoyed to receive this piece of news.
A total of 20 students appeared for the board exams this year and the break-up of the results is as follows – 2 students above 90%, 7 students in Distinction, 9 students in First class and 2 students in second class.
The toppers of this year, Mst. Ayush Manoj Kumar Chaturvedi who scored 93.00% and Mst. Karthikeyan Vinod Nair who scored 91.60% express their gratitude to their teachers and parents who have stood by them during this extremely uncertain year and kept them motivated and focussed.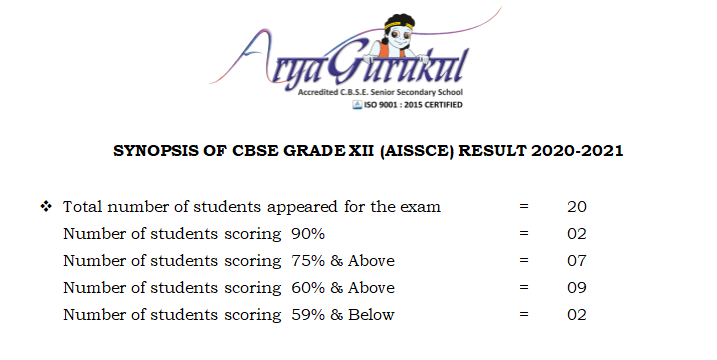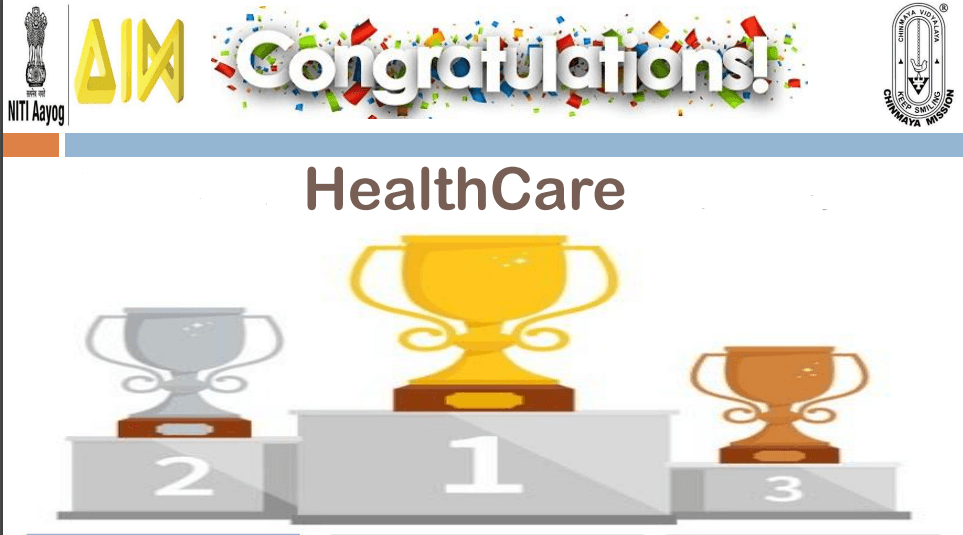 In the HealthCare Junior Category, Dhairya Rajkumar Singh -1st Rank.
In the HealthCare senior Category, Dhanesh Narayan – 3rd Rank.
Aatmanirbhar Bharat Junior Category, Pranav Pravin Gore – 2nd Rank.
The Education World, INDIA SCHOOL RANKING 2020 – 21,
THE TOP 10 CO-ED DAY SCHOOLS CATEGORY! : 3RD RANK Kalyan-Dombivli
---
The Education World, INDIA SCHOOL RANKING 2020 – 21
EXCELLENCE IN BLENDED LEARNING – India No. 3, Maharashtra No. 3, Thane No. 2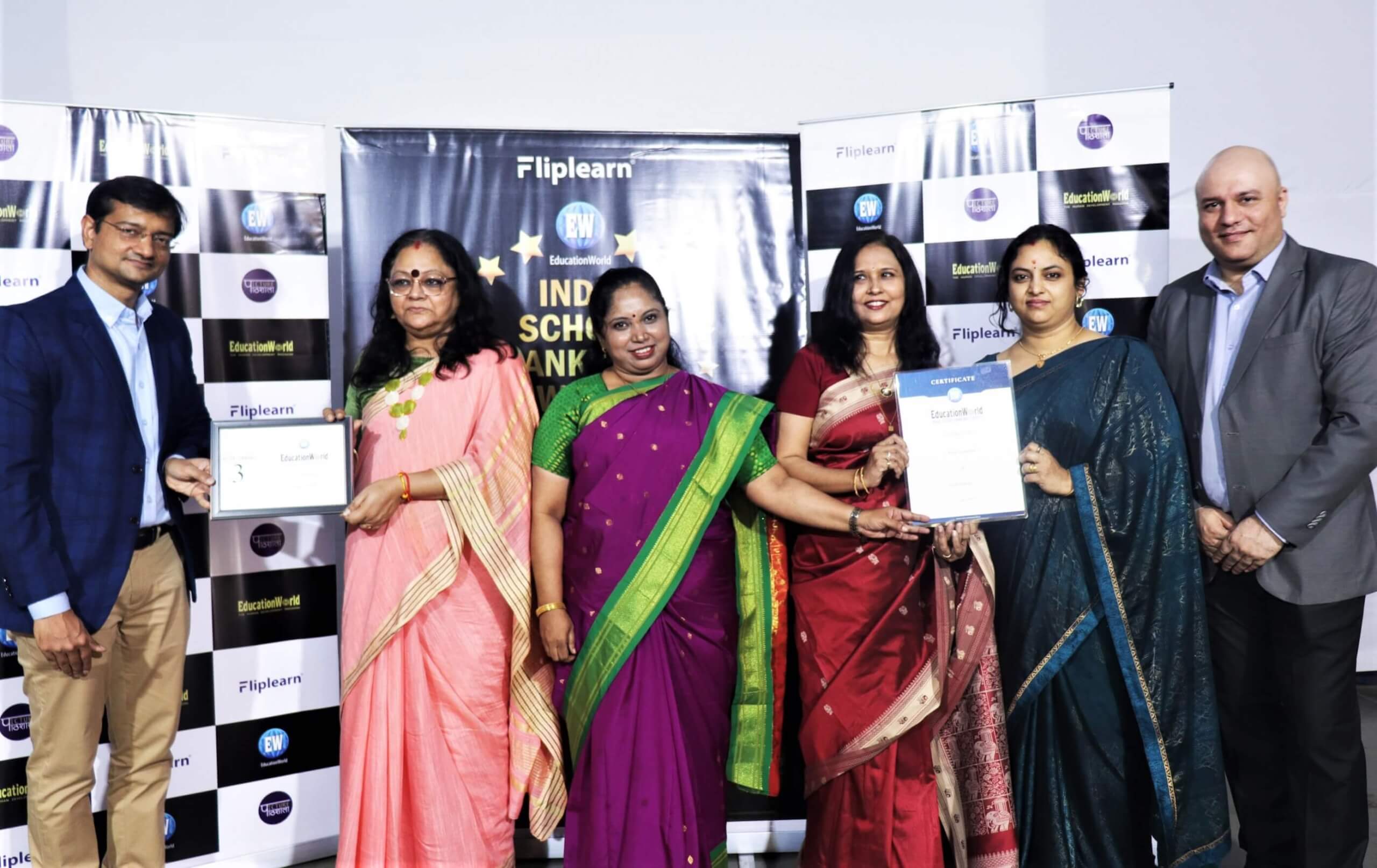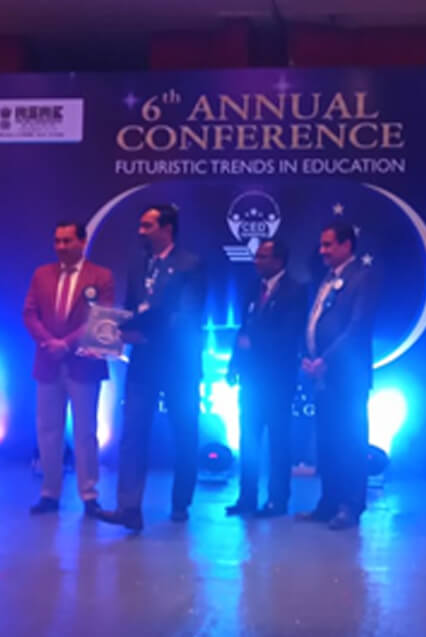 GLOBAL LEADERSHIP AWARD 2020
ARYA GURUKUL NANDIVALI HAS GOT 5 STAR TODAY AT GURUGAM UNDER GLOBAL LEADERSHIP AWARD 2020 FROM CBSE SECRETARY ANURAG TRIPATI. CONGRATULATIONS TEAM.
EDUCATION TODAY'S AWARD – ARYA GURUKUL
RANKED NO. 1 IN INDIA UNDER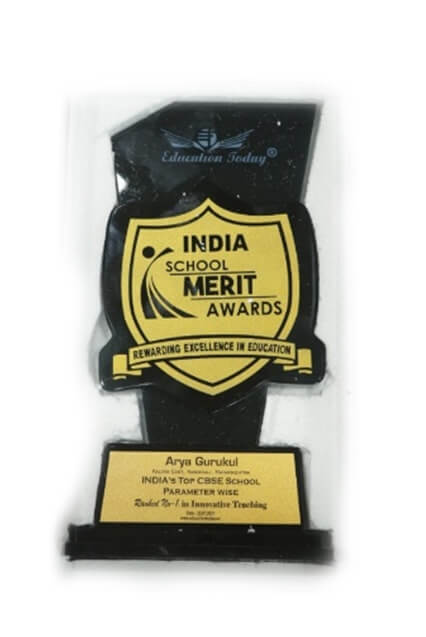 THE TOP CBSE SCHOOLS –PARAMETER-WISE FOR INNOVATIVE TEACHING.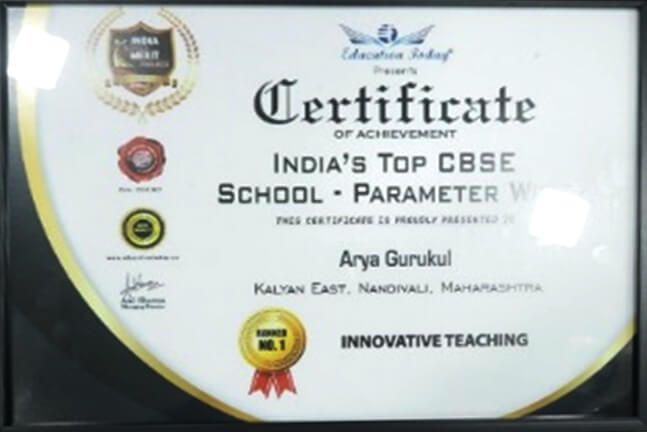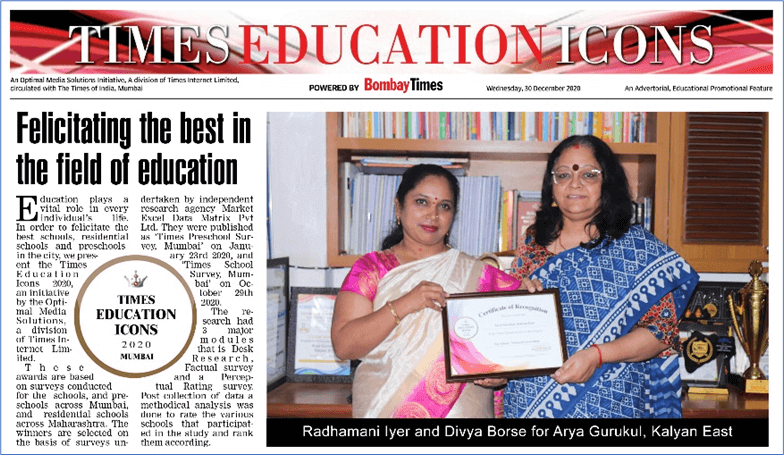 TOI – Times Education Icons
The Year 2020 ends on a high note for Arya Gurukul, Nandivali as it is felicitated by Times Education Icons 2020, an initiative by Optimal Media Solutions, a division of Times Internet Limited. This recognition was based on a survey and a thorough research-based approach to honour schools and pre-schools across Maharashtra that have excelled and created a benchmark for quality education.
Congratulations!!
Excellence and consistency pay off as Arya Gurukul, Kalyan ranks 3rd in the EW India School Ranking 20-21, in the Top 10 Co-Ed Day Schools Category! Arya Gurukul's quick transition to the Online mode of teaching, efficient and effective use of technology by teachers and staff and strong value-driven approach to education has led it to this recognition. Kudos to all our Parents, Teachers and Students for keeping the Arya Gurukul flag flying high. 
Citation of Honour, for Eloquence – Poetry
Citation of Honour, for Eloquence – Essay Writing
Times School Ranking 2020 has honoured Arya Gurukul, Kalyan, yet again. This time Arya Gurukul bags the 4th position in National Curriculum Zone E by the Times School Survey 2020.
Global Innovative Schools Award 2019
Arya Gurukul, Kalyan East has another feather to its cap on receiving the Global Innovative Schools Award 2019, Dubai for Innovation in Pedagogy. Radhamani Iyer, Principal, received the award on behalf on the school. The Global Innovative School Awards recognise institutions that make outstanding contributions in the field of education through their Scale of Impact, Brand Equity and Innovations in Pedagogy. The Award Ceremony was held at BITS Pilani, Dubai on 23rd November 2019, organized by Birla Institute of Technology and Science, Pilani, Dubai Campus (U.A.E) & PHYZOK.
Times Education Icon Awards 2019, an initiative by Optimal Media Solutions, a division of Times Internet Limited, awarded and recognised education institutes that have been doing commendable work in the area of education. Arya Gurukul, Kalyan East is humbled to receive this award in the "Times School Survey, Mumbai" category.
The award ceremony held at St. Regis, Mumbai, was anchored by Sachin Kumbhar and attended by eminent celebrities like Dia Mirza, Jacqueline Fernandez and John Abraham. Renowned educationists from the top B schools, Engineering colleges, Fashion Designing, Architecture and Hotel Management Institutes graced the occasion with their presence. These institutes have been constantly working towards imparting sound knowledge and meeting the skills gap in their respective fields.
The awards are based on surveys conducted by Independent Research companies based in Delhi, which objectively judged various educational institutes on several criteria. Shri Bharat Malik and Smt. Neelam Malik were honoured to receive the award on behalf of Arya Gurukul, Kalyan East. They expressed their heartfelt gratitude for being recognised among the top schools in Mumbai. Shri. Bharat Malik stated that it takes a lot of hard work and dedication to keep the wheels of the school churning year after year and meeting the needs of the children who are going to be the decision makers of our nation. "It takes a lot to make our children future-ready", he said. Smt. Neelam Malik stated that this was made possible because of the teachers, the parents and their students who show their unstinted support to the school.
Arya Gurukul, Kalyan is a well-known CBSE school in Kalyan, that applies project-based, experiential learning, with the best Sports facilities in the eastern suburbs and a plethora of activities which contributes to an all-round, holistic learning experience for its students.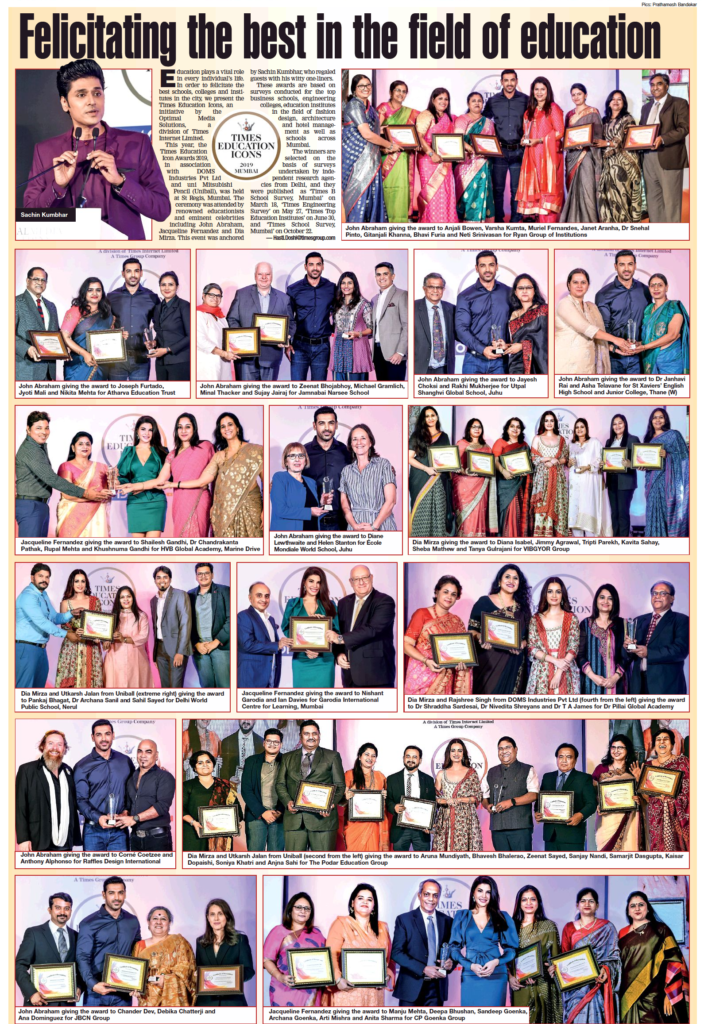 Arya Gurukul is happy to announce that it has bagged the 5th position in the "Steam Education Excellence" across India in the Education World Grand Jury Awards category.
STEAM in the field of Education refers to a project-based approach to learning that covers Science, Technology, Engineering, Arts and Math. The EW Grand Jury Awards is committed to recognizing emerging schools that make efforts to introduce 21st Century teaching practices in primary and secondary education and propel them towards greater contributions.

Congratulation to Arya Gurukul, Nandivili for achieving 17th Rank all over Maharashtra and 6th Rank in Thane in the Education Today's Maharashtra Educator's Summit Awards 2019, in Maharashtra's Top 20 CBSE Schools, 2019 – 2020 category.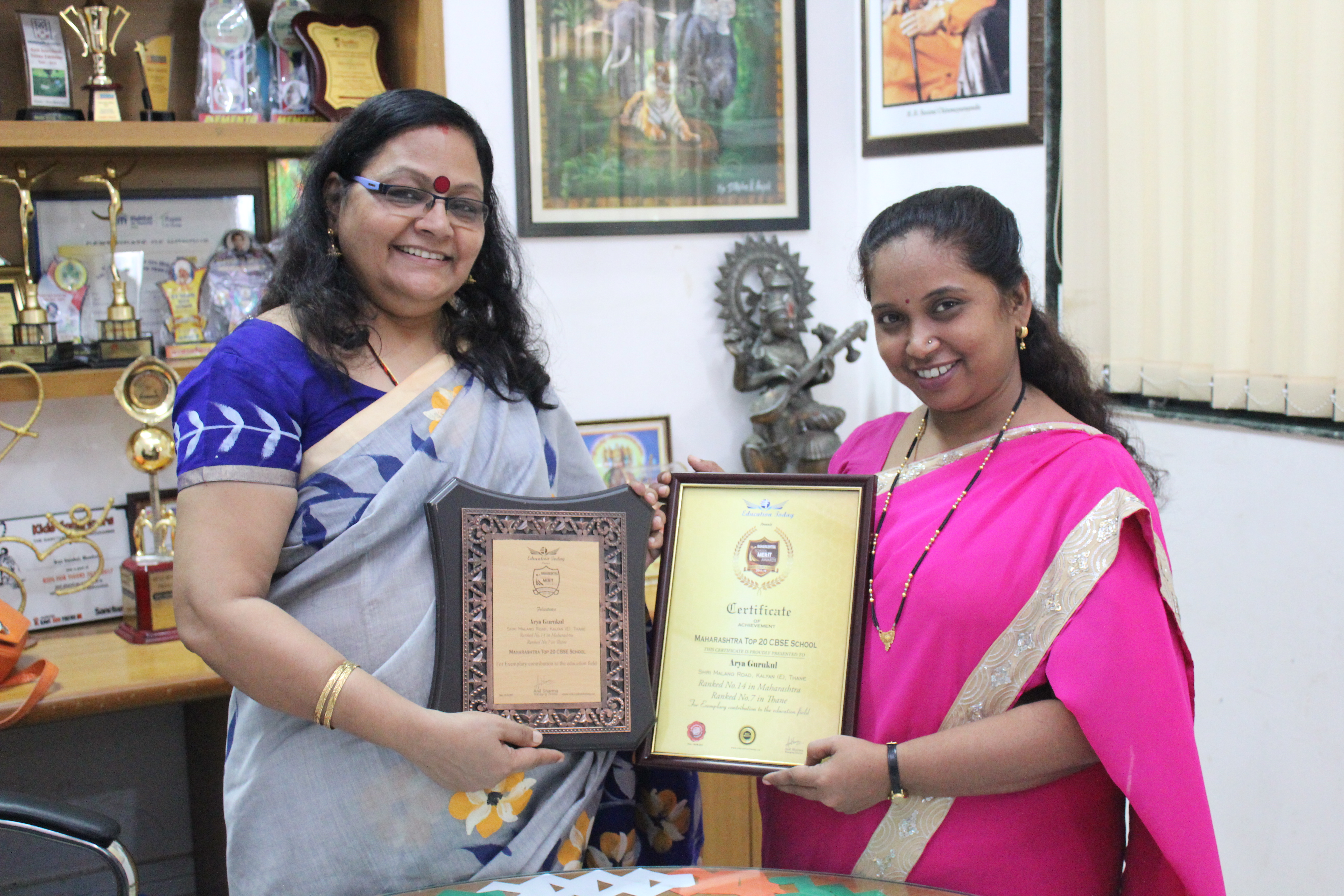 Arya Gurukul has emerged as the Fourteenth Best School in Maharashtra and Seventh in Thane for their exemplary contribution to the Education field among the Top 20 CBSE Schools by Education World.
Ms Shreya Parekh represented Arya Gurukul in Rifle Shooting at various levels and has brought back many awards and accolades such as the CBSE Nationals Silver medal, CBSE State Gold medal, SGFI Nationals Bronze medal. She is selected for Nationals by NRAI (National Rifle Association of India) and won 3 Gold medals in 3 categories at the state level Prabhakar Desai competition 2017. Besides, rifle shooting she has outshone in other areas too such as selected for National Geography Olympiad Top 100 at all India level and has given Homi Baba young scientist exam for Std 6th and Std 9th got cleared for next level.
 Arya Gurukul Nandivali, students with Ex.President of India Pranab Mukerjee. It was a delightful experience for the students of Aryagurukul. Congratulations!